More info about the new NVIDIA Tesla V100 GPU (detailed specifications + comparison)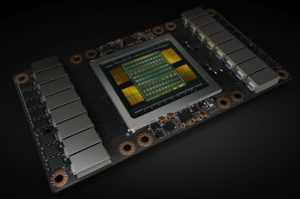 Yesterday we shared with you a short publication about the brand new professional-grade Tesla V100 graphics card – the first one based on the new Volta architecture. Today we would like to expand a bit the information we already shared with some additional facts and a detailed specs sheet, as well as a juxtaposition with other NVIDIA graphics cards.
If you are interested in other NVIDIA products, you could browse through all their currently available graphics cards here: http://amzn.to/2q8VFNM
Some of the novelties that the new Volta architecture brings is a new Tensor core which is supposed to bring much better performance in larger scale processing operations. However, the new architecture is not simply a result of a combination of Pascal design and Tensor cores. No, on the contrary, it's the company's biggest redesign since Firmi. Another useful piece of information is as far as release dates are concerned – server Volta graphics cards will become available on the market not earlier than Q3 of 2017.
Detailed specs and comparison
| | | | | | | |
| --- | --- | --- | --- | --- | --- | --- |
| – | Tesla V100 | Tesla P100 | GTX Titan Xp | GTX 1080 Ti | GTX 1080 | GTX 980 Ti |
| GPU Architecture | Volta | Pascal | Pascal | Pascal | Pascal | Maxwell |
| Process node | 12nm | 16nm | 16nm | 16nm | 16nm | 28nm |
| Die Size (mm^2) | 815mm^2 | 610mm^2 | 471mm^2 | 471mm^2 | 314mm^2 | 601mm^2 |
| FP32 TFLOPs | 15 | 10.6 | 12 | 10.6 | 8.2 | 5.63 |
| Transistor Count | 21.1B | 15.3B | 12B | 12B | 7.2B | 5.2B |
| CUDA Core Count | 5120 | 3584 | 3840 | 3584 | 2560 | 2816 |
| ROPs | 128 (?) | 96 | 96 | 88 | 64 | 96 |
| VRAM Type | HBM2 | HBM2 | GDDR5X | GDDR5X | GDDR5X | GDDR5 |
| Memory Clock | 874MHz | 700MHz | 11408MHz | 11008MHz | 10008MHz | 7000Mhz |
| VRAM Cappacity | 16GB | 16GB | 12GB | 11GB | 8GB | 6GB |
| Memory Bus Size | 4096-bit | 4096-bit | 384-bit | 352-bit | 256-bit | 384-bit |
| Memory Bandwidth | 900GB/s | 720GB/s | 547.7GB/s | 484 GB/s | 320 GB/s | 336GB/s |
| Base clock speed | – | 1328MHz | 1480MHz | 1480MHz | 1607MHz | 1000MHz |
| Boost clock speed | 1455MHz | 1480MHz | 1582MHz | 1582MHz | 1733MHz | 1089MHz |
| TDP | 300W | 300W | 250W | 250W | 180W | 250W |
| Power Connection | – | – | 1x 8-pin 1x 6-pin | 1x 8-pin 1x 6-pin | 1x 8-pin | 1x 8-pin 1x 6-pin |
| PCI Express | NVLink 2.0 | NVLink 1.0 | PCIe 3.0 | PCIe 3.0 | PCIe 3.0 | PCIe 3.0 |