Lenovo's ZUK Edge is a new affordable smartphone with Snapdragon 821, curved glass and 6GB RAM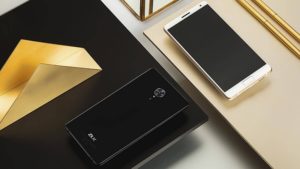 Just before the end of 2016 Lenovo announced a new intriguing smartphone – the ZUK Edge. It's a mid-range device that is expected to have a price of $330. However, its specs suggest something more exciting than just another affordable smartphone.
If you are interested in this new Lenovo model, you can use this link to check when it will be available: http://amzn.to/2iaHOBc
As you may guess from the title of the publication, we are dealing with a 5.5-inch display with curved glass and decent color gamut coverage. Also, it ships with a Snapdragon 821 on the inside along with an Adreno 530 GPU which are accompanied by 4GB ($330) or 6GB of RAM ($360). In other words, you won't have any problems with performance.
Additionally, this smartphone uses a 13MP main camera along with an LED flash positioned on the back. Below them there is a heart-rate sensor. Another noteworthy aspect is the battery which has a capacity of 3100 mAh and you will be able to charge in no time thanks to the Quick Charge 3.0 technology. The phone is expected to hit the markets in the beginning of January, 2017, but if you are impatient and want to buy a Christmas present for yourself or somebody else, you may wish to check the $249.99 elePhone S7.