Lenovo Yoga 3 (14-inch) has long battery life given the capacity and the presence of discrete GPU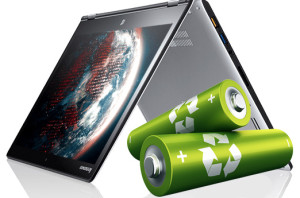 Despite the capacitive IPS screen, the Core i7 processor and the discrete NVIDIA GeForce 940M, Lenovo Yoga 3 (14-inch) scored pretty good results in our battery life tests. As usual, we run them with turned on and connected Wi-Fi, turned off Bluetooth, Power Saver mode and screen brightness set to 120 cd/m2.
At first, we didn't have high expectations, having in mind that this a small 45Wh battery running the show. However, the notebook can surf the Web for 6.5 hours (391 minutes) with one charge, watching an HD movie drains the battery for 376 minutes (6 hours and 16 minutes) and if you want to play 3D games (we use Metro: Last Light for the test) you can do it for an hour and a half (92 minutes).
We have a lot more insight to share our upcoming thorough review.