Lenovo ThinkPad X1 Yoga falls into the user-friendly category with no PWM across all brightness levels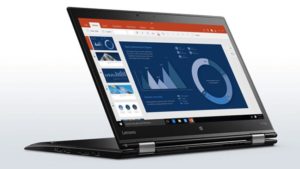 On top of the impeccable image quality the ThinkPad X1 Yoga's display offers, the notebook appears to be missing the "PWM feature" and that's a good thing. If you don't know what PWM is, go check out our dedicated article. Also, we would like to mention that this applies to the Full HD version and since we still haven't tested the QHD variant, we can't say the same for the model with the optional screen.
You can find the notebook's price and availability here: http://amzn.to/1NzYfjv
Anyway, our oscilloscope didn't record any screen flickering across all brightness levels so it's safe to assume that prolonged usage will not cause eye strain. You can see for yourself on the image below. We also suggest visiting our PWM ranking table as well – it ranks the least harmful laptops that we tested so far.