Lenovo reveals two new monitors – ThinkVision P24h and ThinkVision P27h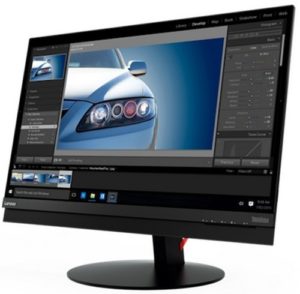 Lenovo announced two new products that will refresh their ThinkVision series of monitors. We are talking about ThinkVision P24h and ThinkVision P27h. As you may probably guess from the title of this publication, one of them is 24 inches and the other one – 27″.
Of course, it does not all boil down to size, does it? It's good to know that these new screens will have IPS panels whose resolution is Quad HD (2560 x 1440 pixels). As far as gaming fanboys are concerned, we can't yet confirm the refresh rate but we are aware of the response time – 6ms. Additionally, these monitors will be suitable for both general office work as well as some photo editing because they come with 99% of sRGB coverage out of the box.
If you happen to show interest in the Lenovo ThinkVision line of monitors, you may very well wish to check the price and availability of its products here: http://amzn.to/2ipqmwQ
From a design perspective, the monitors have some pretty decent features. There are almost no side bezels, as you can see in the images below, and there is only a chin carrying the Lenovo and ThinkVision inscriptions, along with a few buttons. As far as connectivity options are concerned, you will be presented with two HDMI and two Display Ports, complemented by four USB and a USB C port, which also ensures power delivery (up to 45W). Price-wise, we are looking at starting prices from $259 and $329, respectively.