Lenovo Ideapad 510's display flickers from 0 to 99% brightness but at high frequency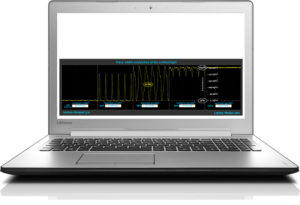 The first tests on the Ideapad 510's screen just came in from our lab and we are eager to share this insightful information because there's a growing number of users who are on a constant search of notebooks without PWM. And as we all know, PWM isn't exactly a good thing for your eyes and your health as a whole. Unfortunately, though, the Ideapad 510 disappoints to some extent.
The notebook and its configurations can be found here: http://amzn.to/2e5xQCw
The results show the presence of PWM from 0 to 99% brightness but there's a bright side – the emitted light pulsates at a higher than usual frequency – 22 kHz. That's pretty high and may or may not affect users with sensitive eyes. But our best guess is that most of the users won't notice it.
However, if you are one of those users who will definitely feel the negative impact but you still want the Ideapad 510 as your daily driver, which we understand given the crisp IPS panel, we suggest waiting for the full review with which we will release the full set of custom profiles for this display. So the Health-Guard profile will help not only with the blue light emissions but will also limit the PWM while you can still enjoy the delicious IPS screen.