Lenovo E31-70's battery life is exactly as long as the manufacturer promised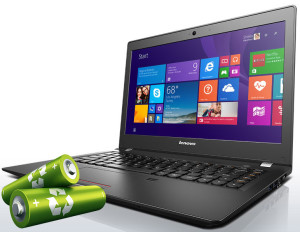 Lenovo E31 is a new notebook from the Chinese manufacturer. It is an affordable business device with good specs and power efficient internals. The configuration we have comes with an Intel Core i5-5200U with integrated HD Graphics 5500 GPU, 8GB LPDDR3 RAM, and a 13.3" Full HD IPS panel. All these components are powered by a 2-cell, 35Wh/4400mAh battery, which Lenovo has rated at 5 hours of usage and it seems their data is pretty accurate.
In our standard battery test the Lenovo E31-70 offered results that are really close to the manufacturer's specs. In our Web browsing test we got a result of 283 minutes or 4 hours 43 minutes. The result in our video playback test is 312 minutes or 5 hours and 12 minutes, both results are pretty close to what Lenovo promised in their specs sheet. 3D gaming always takes a toll on the battery life and this case is no different, in our gaming battery test with Metro Last Light running at Low we got a result of 95 minutes or 1 hour and 35 minutes, which is still a decent result for this type of notebooks. All tests are conducted under the same conditions – Wi-Fi turned on and connected, Bluetooth – off, Power Saver mode on, and screen brightness set to 120 cd/m2.