Lenovo announced the new ThinkPad X1 Yoga (2017) with OLED screen and military-grade strength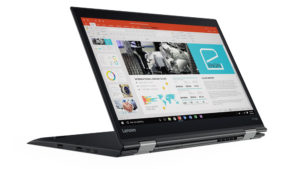 Well, yeah. It's Lenovo again. This time it's another ThinkPad product – the X1 Yoga (2017) – a relative to the X1 Carbon (2017) we already wrote about. The Yoga is a tad heavier but more flexible than the X1 Carbon but let us see what else there is to it.
If you want to check other Lenovo laptops, you can use this link: http://amzn.to/2iZEedO
Not only is this piece of technology rather appealing to the eye but it is also built really well. It can withstand a lot of beating as it's military-grade certified. That's great if you're a clumsy fellow like me. Additionally, the X1 Yoga will also come with a silver color variant just like the X1 Carbon. Connectivity-wise, we are presented with nearly the same options as with the X1 Carbon although here there is one additional full-sized USB port.
One of the main highlights here is the digitizer pen that comes with X1 Yoga (2017). It comes with an updated tip for improved drawing performance. And it is here that we must also mention the display options you'll have to choose from – Full HD IPS (1920 x 1080p), WQHD IPS (2560 × 1440 p) and a WQHD OLED version. The latter option will ensure amazing contrast ratio, 100% coverage of the Adobe RGB color space and true black color. This is a very important aspect as it, taken together with the available pen, allows for more than reasonable color editing on the go.