Lenovo A7000's battery struggles with gaming, but shows great Web Surfing and Video Playback endurance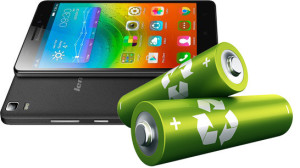 We haven't stopped testing the new Lenovo A7000 and we just checked on its battery life capabilities. We measure the battery endurance using 5 different scenarios, all of which you're going to find in our upcoming in-depth review. The battery capacity is 2900 mAh, which sounds good, but let's keep in mind that the 5.5-inch screen which will definitely eat up a lot of energy. We can say the same about the 8-core processor as well, even though it features the power-efficient Cortex-A53 architecture.
In our Wi-Fi Surfing test, A7000 managed to run or custom-made script for 596 minutes (9 hours and 56 minutes), which is definitely a good result. The battery life performance goes even higher in the Video Playback test – 635 minutes (10 hours and 35 minutes). Given these great results, we were rather disappointed by the 3D gaming endurance, even though this is the most intensive test – 204 minutes (3 hours and 24 minutes).
You can check the current price of Lenovo A7000 here: http://amzn.to/1HZgBX5