It turns out that Acer Predator's (G9-791) screen is suitable not only for gaming, but for professional use too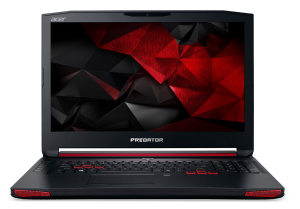 Just before the full review of Acer Predator (G9-791), we would like to publish a little "teaser" regarding the screen quality. Our tests point out that the display used inside this machine is just flawless. It passed every single test with flying colors, including color reproduction.
You can check the current price of Acer Predator 17 here:
http://amzn.to/21rbrAo
The image below represents the actual coverage of the sRGB and Adobe RGB color gamuts – 100% for both. This means that the display is capable of reproducing all of the needed colors not only for gaming, surfing and watching movies (sRGB), but it can also be used for professional video and photo editing as well. Our claims are further backed by the numbers we got from our color reproduction tests – DeltaE 2000 – 0.32. This is ridiculously low result and the deviation can be measured only with a lab equipment. Note that a value below 1.0 is considered to be sufficient for professional use.
Other important results include 922:1 contrast ratio, 359 cd/m2 maximum brightness, and along with the matte finish, will assure even relatively comfortable outdoor use.
Stay tuned for our full review, very soon, but in the meantime, take a look at our first impressions of the model.