Intel's Kaby Lake Core i7-7Y75 is in our office – let's see how far the former Core m processor has gotten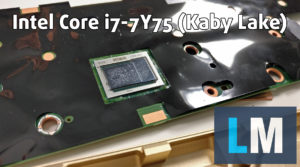 Some leaks suggested that Intel is going to rebrand its Core m lineup prior to the launch and it turned out to be true. We remain a bit skeptical about this change because it will ignite even more confusion to the already complex family of Intel CPUs. The rebranding, however, will mostly confuse customers who will think that they are getting a ULV (ultra-low voltage) Core i7 CPU but instead they will receive a successor to the Core m family. And we all know how descriptive OEMs are when launching new products – just sticking Core i5 and Core i7 processors in the tech specs.
Nevertheless, Intel claims that the shift from Core m5 and m7 to i5 and i7 is not only a marketing-driven move but also represents the performance increase that almost matches the KBL-U chips. That's a pretty bold statement but with the new guidelines imposed to OEMs for implementing the KBL-Y processors, we might actually see some decent performance jump over last years Skylake-Y chips. We now have the chance to test out one of those chips – the Core i7-7Y75 in Acer's brand new and still unreleased Swift 7 notebook and we are eager to see how the chip will perform during our stress tests, benchmarks, and 4K video playback. Here are is a photo of the tiny processor paired with Intel's HD Graphics 615.