Intel reveals its new Core X-series of server-grade processors – first 18-core CPU
Computex doesn't stop to wonder us. This time Intel is surprising us with its new series of server-grade enthusiastic processors. The new family Core X will bring super high-performance processors with up to 18 cores.
Everyone is common with Intel's i3, i5 and i7 CPUs that represent respectively the low, mid and high-end of the market, but now we are witnessing the birth of a whole new i9 family. Part from the Core X-series, the i9-7980XE is the ultimate processor that Intel has ever made. This is no ordinary CPU – it packs 18 cores. We have to mention that this is a consumer-grade product which means that anyone could buy it, though we aren't sure who has $1999 to give for a CPU. However, if you are a professional streamer or your job insists for heavy multitasking maybe you will consider buying it.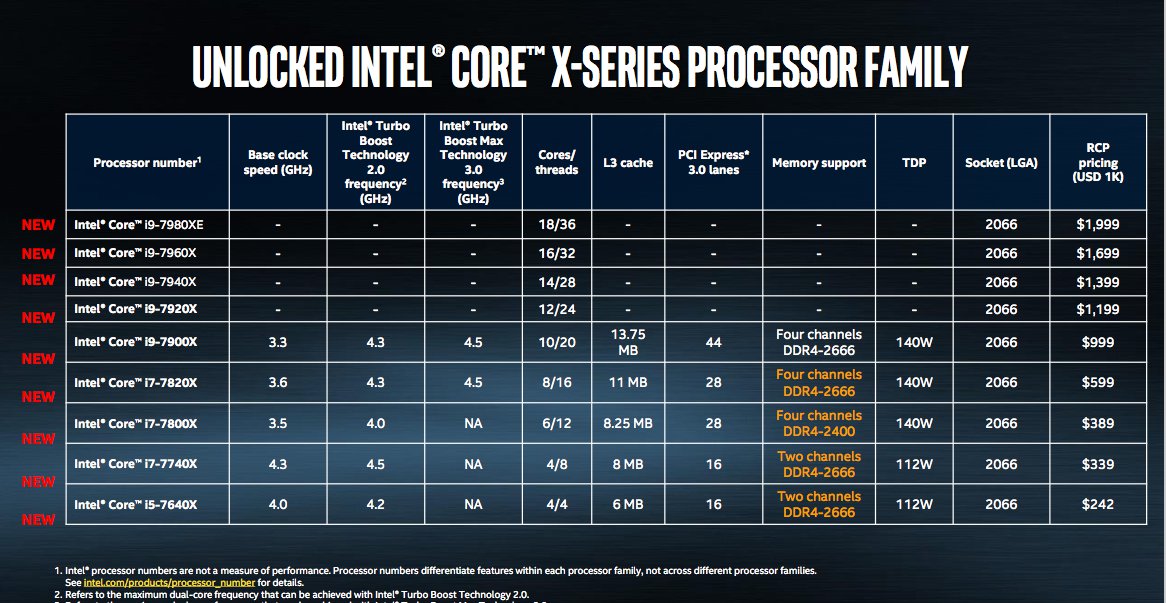 Good news is the fact that there will be other Core i9 CPUs with 10, 12 and 16 cores if 18 is too much for you. The least powerful – the 10-core i9-7900X will cost half the price of the 7980XE or $999 to be precise which is not just a lot more affordable, it's also a lot cheaper than last year's 10-core Core i7-6950X Extreme Edition CPU.
Let's lay out some of the specs. All the i9 chips will have a base clock speed of 3.3 GHz, reaching up to 4.3GHz dual-core speeds with Turbo Boost 2.0 and 4.5GHz with Turbo Boost 3.0. The thermal design point (TDP) of the new chips is 140W but that is to be expected from a 10 to 18-core CPU.
Meanwhile, you can check all available Intel processors over here: http://amzn.to/2shqjEj