Intel releases its most powerful Xeon processor ever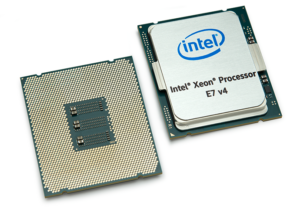 Today the Californian semiconductor giant announced its latest Xeon processor. The CPU carries the model name Xeon E7 8894 v4. The E7-8894 features 24 cores and 48 threads and obviously supports Hyper-Threading technology. Wth a base clock of 2.4GHz and a boost frequency of 3.4GHz that makes it the fastest, most powerful Intel Xeon CPU to date.
The processor supports up to eight sockets (or up to 32 via node controller) which allow configurations with up to 24 cores and up to 24TB of memory.
Of course, such a powerful processor costs a bunch. The CPU is priced at $8898 but we should keep in mind that it is not meant for home PCs by any means. A processor with such computing power is targeted at big enterprises and businesses where huge amounts of data are processed every single day.
If it happens so that you own such a business and are looking to upgrade your system the new Xeon E7 8894 v4 should become available within the first quarter of the year.
Meanwhile, you can check all available Intel CPUs over here: http://amzn.to/2l4t9fx