Intel Q1'2017 Earnings Report analysis – beats its last year's financial results by over $1 billion
The shareholders at Intel Corp. are probably very pleased with the company's record earnings for the first quarter. Despite the release of competition's Ryzen, and with ARM attempting to get in on the action it seems as thought Intel remains unaffected, managing to beat its last year's financial results by over $1 billion.
You can check all available Intel products and computers featuring their processors here: http://amzn.to/2prgvZS
Remaining steadfast in the face of the opposition, Intel's Q1 revenue clocks in at $14.8 billion, compared to the $13.7 billion from the same time last year. When compared to Intel Q4 2016's $16.4 billion, however, Q1 2017 falls a bit short. The figures in the report amount to a net revenue of $3.0 billion, which in turn corresponds to $0.61 earnings per share for the first three months of operation in 2017.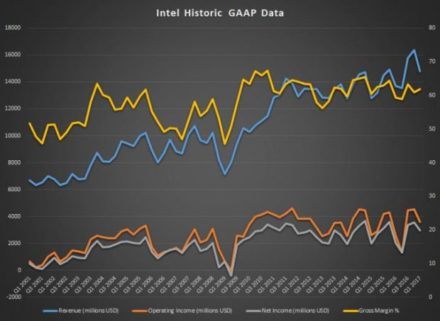 The gross margin for Q1 is also up, at 61.8%, 2.5% more than the 59.3% from a year ago. From the markets Intel is in, its biggest department earner is the client computing group, bringing in a staggering $7.976 billion, signifying an increase of 6% year-to-year. Next up is Intel's data center group at $4.232 billion with similar percentile improvements. These couple sections account for the largest monetary influx. However, there are other smaller groups which are also bringing in profits.
With the release of Intel's Optane, the non-volatile memory solutions group managed to score a huge 55% boost over Q1 2016 and a 6% lead over Q4 2016, it seems so far Intel is doing reasonably well in the memory solutions, but with steep competition, especially in the face of Samsung, only time will tell. The Internet of Things revenue is up 10% from last year, at $721 million. Intel suffered a small loss from its Intel Security business, reported revenue at $534 million. Intel CEO Brian Krzanich has also spoken about self-driving cars for the next decade.  Intel also has intentions of buying Mobileye, a computer vision oriented company. Taking that information into account we could say that Intel is trying to move towards the Internet of Things and Data Center Group markets while trying to reduce its reliance on the declining PC business. And on a positive note, the programmable solutions group achieved a 20% improvement bringing its revenue up to $425 million. Intel shares are up 17%  in the last 12 months.
The Intel forecast for the next quarter reads at $14.4 billion, with a slightly lower margin of around 60%. Intel's managed to please its shareholders with these results, beating the analyst's expectations this Thursday, let's see what the future brings for them.
You can check all available Intel products and computers featuring their processors here: http://amzn.to/2prgvZS