Intel introduces SSD DC P4501 series based on 3D NAND flash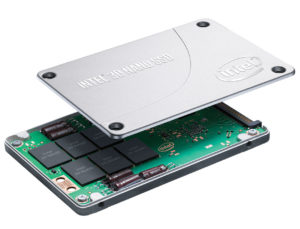 Apart from the ambitious Optane drivers, Intel is also working on some more regular SSDs. The company just introduced its new DC P4501 series of high-end solid-state drives which are based on the latest 3D TLC NAND flash memory. The drives take advantage of the PCI-Express 3.0 x4 slot with the NVMe 1.2 protocol. You will be able to get them in either the 7mm thick 2.5-inch U.2 or the M.2-2280 form factor both with 32 Gb/s interface.
The base capacity of the drives will be 500 GB and it will go up to 4 TB. The transfer rates offered are 3200 MB/s reads and 900 MB/s writes. They are rated at 360 000 IOPS 4K random read performance and 46 000 IOPS 4K random writes while the endurance is rated at 1 DWPD (random) and up to 3 DWPD (sequential).
For the safety of your data, both form factors feature a power-loss imminent protection – dedicated transistors store and give the drive enough power to finish its outstanding write operations in the case of a power outage. You also get five years of warranty.
Meanwhile, you can check all available Intel products over here: http://amzn.to/2nwU3e8