Inside the Lenovo ThinkPad E550 – disassembly, internal photos and upgrade options
Lenovo ThinkPad E550's casing offers relatively easy and fast upgrade options, but it lacks one really important storage option – the m.2 SATA slot. It's strange that Lenovo didn't include it in the newer model since the E540 did have one of those. However, we hope that Lenovo will start selling models with m.2 SATA in the near future, because we found that the motherboard just lacks the soldered slot and also the chassis has one special spot for it.
1. Opening the back
The back of the laptop is quite easy to access, especially since you have two covers and just three screws keeping them in place. By removing the bigger one, you will have access to the RAM chips, HDD and the Wi-Fi module. The HDD is kept firmly in place by two brackets with four screws.

This photo shows the empty space in which the m.2 SATA slot should go.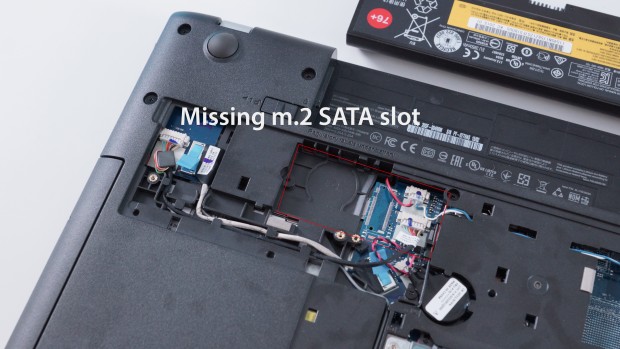 2. Opening the smaller cover
Right next to the big one a smaller cover hides the half of the eventual m.2 SATA SSD and the 3G module for the SIM card, which in this model isn't available, but once again there is enough space for it. It is quite possible that Lenovo will release models which support both 3G connectivity and m.2 SATA SSD slots.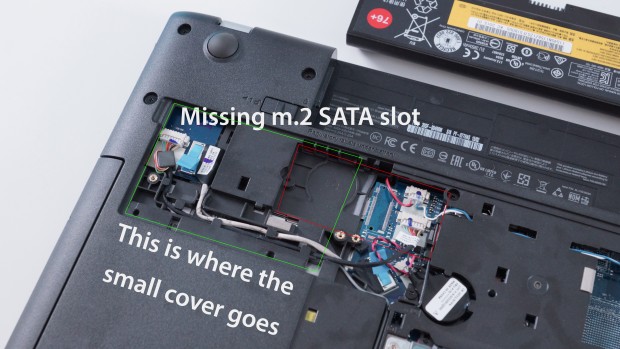 3. Replacing the optical drive with an HDD or SSD
On the photo below you can see the empty space in which the optical drive goes. If you are unsatisfied by Lenovo's decision of removing the m.2 SATA slot, you can compensate with another SSD or HDD, but only if you are willing to replace the optical drive.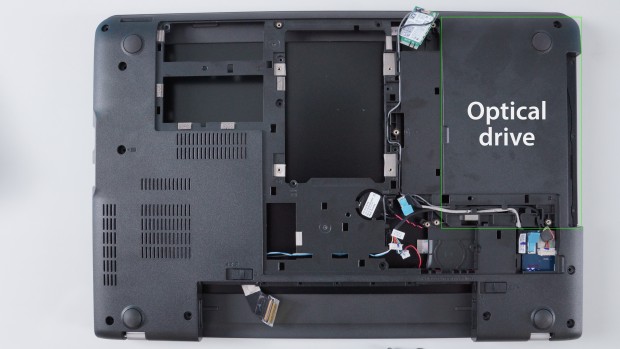 4. Accessing the cooling system and motherboard
This one is pretty tricky. Unlike most laptops, the ThinkPad E550 is really hard to disassemble completely. Removing the whole bottom of the notebook won't work – you will also need to remove the keyboard with some unscrewing and a plastic tool to pop it out. Under the keys you will find several screws which keep the motherboard in place. There's also the cooling fan, so if you ever need to clean your internals from dust, we strongly recommend giving it to a technician.
Stay tuned for the full review of the Lenovo ThinkPad E550 and see how the chassis handles bigger loads and high temperatures.