Inside HP Spectre 13 (2016) – disassembly, internal photos and upgrade options
We are back again with the HP Spectre 13 but since we missed this part of the review, we are doing the disassembly now. Better late than never, right? Anyway, HP's thinnest – not the world's thinnest since the Acer Swift 7 snatched the crown – laptop is pretty hard to disassemble. It requires just a few tools but it's a big hassle to detach the bottom piece.
The notebook's price and information about its availability can be found here: http://amzn.to/2etU8fm
1. Removing the screws
Since there are no screws around the bottom, you will find them under the silicone feet, which are easy to remove. Just use a thin plastic tool to pry them up, the adhesive used isn't as strong as we expected.
There are two screws under the front strip and three hiding beneath the back strip near the back of the machine.
2. Prying up the bottom
This one is pretty tricky. The bottom piece is held by numerous clips and they hold it pretty tight. It's super-hard to detach even with all the screws removed. Be careful because there's no gap between the bottom piece and the base unit and requires thin plastic tools to pry it up.
3. Storage, battery, Wi-Fi card
An M.2 PCIe NVMe-enabled SSD takes care of the storage. HP used an OEM version of the EVO 950 – PM951 with model number MZVLV256HCHP. It's a really fast and reliable storage solution, so kudos for that. The standard that fits is the usual 2280 with B or B&M key connector. Just be careful when removing it because a small metal piece is used to secure the SSD.
Right on the opposite side, you will see the Wi-Fi module as well.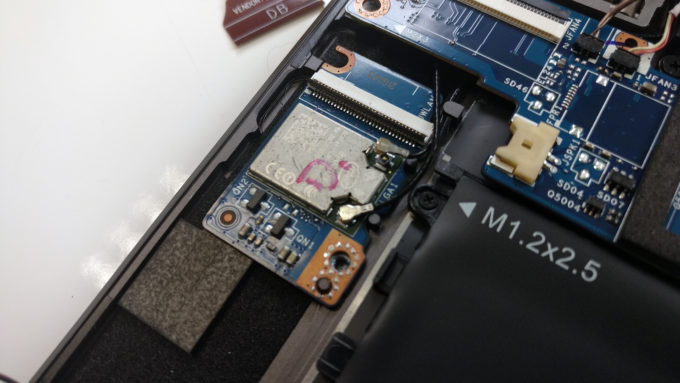 The battery, well you really can't miss this one as it takes most of the space inside the laptop. The unit is rated at 38Wh.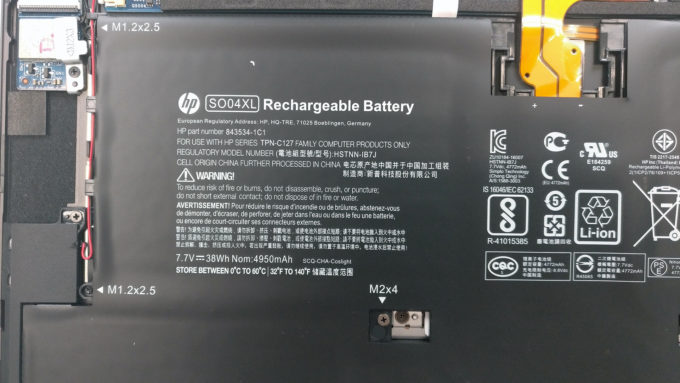 The RAM chips are soldered to the motherboard and can't be replaced/upgraded.
4. Cooling system
The cooling system consists of two really small fans and none of them is connected to the heat sink and heat pipe. The system relies on vents to push out a stream of hot air without making a solid connection to the CPU. This has proved to be a bad cooling solution and our tests in the full review confirm that. So in fact, the thermal throttling of the CPU isn't caused by the thin design of the notebook but because of the cooling design.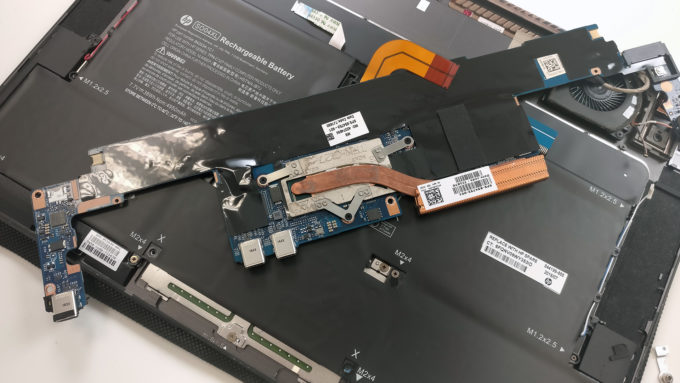 The notebook's price and information about its availability can be found here: http://amzn.to/2etU8fm