HP Elite Dragonfly G1 goes to the third place of our Laptops with best battery life chart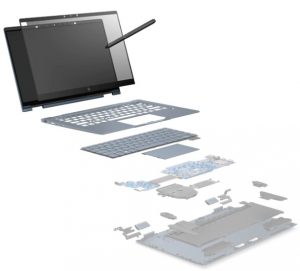 The HP Elite Dragonfly G1 is such a great device. It's a transformer that can be a normal clamshell laptop or you can quickly turn it into a tablet with one simple move. HP has done a really good job with the additional optimizations regarding performance and battery life. This machine stays cool under load despite the fact that it uses a not-so-new Intel Core i7-8565U which is a Whiskey Lake CPU and it's not that battery-friendly like its Ice Lake siblings.
The battery of this laptop has a relatively small capacity – 56Wh. No matter what, HP has done some kind of magic in terms of battery life. In our test lab, this laptop was able to achieve 20 hours and 18 minutes of Web browsing and 15 hours and a half of video playback!
Let's say that you use your laptop every day for 2 hours of Web browsing and after that, you close the lid. That means you can use it for at least 10 days without thinking about the charger. Or if you watch a movie that is 90 minutes long it'll take at least 10 movies before draining the battery entirely.
Is there any kind of cath? Well, no. As we already said, the laptop is equipped with a Whiskey lake CPU that is a "tech from yesterday" and battery size isn't impressive at all. That makes the battery score even more impressive. Of course, one of the things that makes this kind of battery life possible is the small screen (13.3″), the fact that the device comes with an iGPU only, and probably the good optimizations that come from HP. The result is a laptop with staggering battery life.
The HP Elite Dragonfly G1 has some other cool features and if you haven't already checked our in-depth analysis you can have a look here.
A quick note about our battery test methodology –  we conduct the battery tests with Windows Better performance setting turned on, screen brightness adjusted to 120 nits and all other programs turned off except for the one we are testing the notebook with.