HP announces new EliteBook laptops powered by AMD Ryzen
HP has just revealed something very good for the professionals looking for powerful and reliable notebooks – new Ryzen powered laptop series. Say Hello to the AMD variants of the HP Elitebook 7xx G5 series and the HP ProBook 645 G4.
The models offer high-end security, self-healing, enforced hardware, and other security solutions provided by HP, but more on that later. HP delivers notebooks crafted for professionals. All of the machines feature Windows 10 Pro OS, an all-day battery, and Ryzen Pro mobile chips. However, in case you run out of power they've made sure to quickly get you back in business with the Fast Charge technology that lets you go from 0 to 50 percent in just about 30 minutes.
HP Elitebook 7xx G5 Series 
On the one hand, there is the Elitebook 735 G5 / 745 G5 and 755 G5 series. They have an ultra-slim design, made out of aluminum, coated in natural silver giving it a sleek design, clean look, and a good feel. The chassis is made of seamless aluminum. Additionally, delightful performance is ensured by a Ryzen Pro Mobile Processor and Radeon Vega graphics card, and the series comes in three variants:

The 735 G5 version has a 13.3″ display, weighs 1.33kg, and its thinness is 17.7mm. The next one is 745 G5 and it weighs a bit more – 1.53kg and is with just 0.2mm (17.9mm) thinner, with a display of 14". The last one is the 755 G5 model which weighs 1.86kg, it is 18.25mm thin and the screen is 15.6″.

On the outside, we can see several details. The display bezels are narrow, giving enough space to house the two integrated microphones and a webcam. It has a speaker grill which spans from one side to the other. On the left side of the laptop, you can find a vent for heat dispersal, one USB 3.1 Gen 1 charging port, Smartcard Reader, and a Security lock slot. On the top of the chassis, you can locate the keyboard which also provides you with the option to easily manage calls with just the touch of a button and a touchpad. The indicator LEDs are located on the front lower part of the base and you can find a power, wireless and storage lights. All of the models support the HP docking stations and that also includes HP's Ultraslim mechanical dock and the Thunderbolt dock.

The three models will please you with enterprise-grade security systems that include: HP Privacy Camera, HP Sure View, HP Sure Run, HP Sure Recover, HP WorkWise, SmartCard reader and Fingerprint reader. The 13.3" display comes with a choice of FHD UWVA IPS displays with max brightness of either 220 or 400 cd/m2, and color gamut coverage of 45% sRGB or 72% sRGB. Also, there is an IPS touch-sensitive version.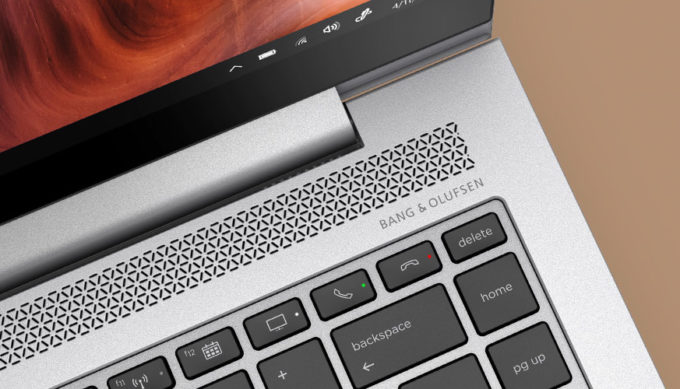 The laptop comes with a preinstalled Windows 10 version or FreeDOS 2.0, SSDs are an option as it can have an M.2 SSD (up to 512 GB), M.2 SATA FIPS 140-2 512 GB and up to 256 GB SATA SSD. Memory has not been overlooked either as it can go up to 32GB 2400 SDRAM. Regarding the camera, it comes with an HD camera or optional InfraRed camera with multi-array microphone. The audio system that is present here is Bang & Olufsen – a dual stereo speaker is a great feature. Going back to the keyboard, it is also spill resistant with a drain, a backlight is an option as well. Overall, the new Ryzen Elitebook laptop is not to be overlooked as it offers some really great features.
The starting price of HP ProBook 7xx G5 will be 799€ for Europe and ~$799 for the USA.
You can check for Elitebook 735 G5 availability here: Buy from Amazon.com (#CommissionsEarned)
You can check for Elitebook 745 G5 availability here: Buy from Amazon.com (#CommissionsEarned)
You can check for Elitebook 755 G5 availability here: Buy from Amazon.com (#CommissionsEarned)
HP ProBook 645 G4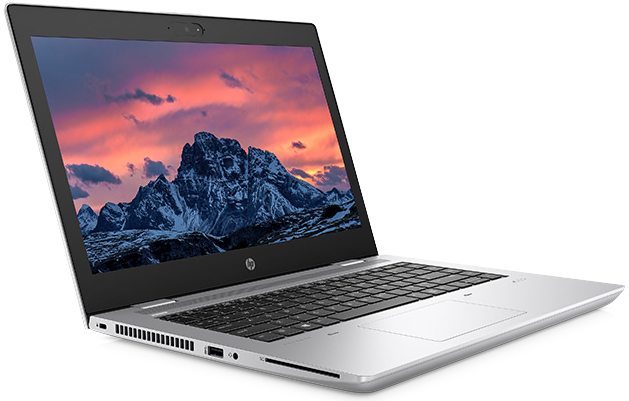 Aside from the Elitebook, Ryzen chips have also been integrated into the ProBook 645 G4 series. It comes in several variants, each housing the same mobile processor with different capabilities. The series features a Windows 10 OS or FreeDOS 2.0 again. The processor is from the 8th generation AMD RyzenTM PRO APUs. You can choose either an AMD Ryzen 3 PRO 2300 APU (2 GHz base frequency, up to 3.4 GHz burst frequency, 4 cores with 6 MB cache) or AMD Ryzen 5 PRO 2500 APU (2 GHz base frequency, up to 3.6 GHz burst frequency, 4 core with 6 MB cache). Or if you really want to hit high tier range you can go for AMD Ryzen 7 PRO 2700 APU (2.2 GHz base frequency, up to 3.8 GHz burst frequency, 4 core with 6 MB cache). All of them have Radeon Radeon Vega Graphics.
To see where those processors rank in our chart, visit: http://laptopmedia.com/top-laptop-cpu-ranking/
According to the configuration you go for, the weight will vary. The starting weight is 1.73kg. Memory has not been overlooked again, the maximum amount you could use is 32GB DDR4-2400 SDRAM. The display can be as follows:
14″ FHD IPS eDP LED-backlit touchscreen, 220 cd/m2, 45% sRGB (1920 x 1080).
14″ FHD IPS eDP anti-glare LED-backlit, 220 cd/m2, 45% sRGB (1920 x 1080).
14″ HD SVA eDP anti-glare LED-backlit, 220 cd/m2, 45% sRGB (1366 x 768).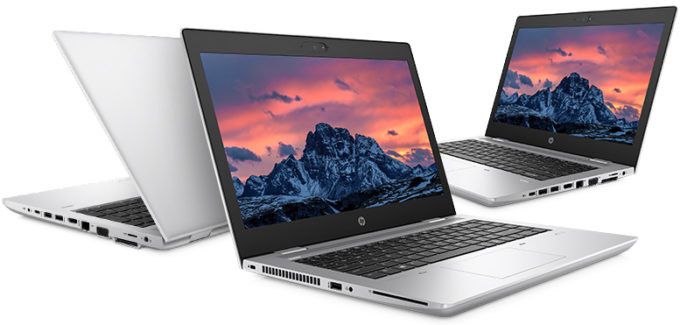 With the new design and features that characterize the HP ProBook 645 G4, it does not go far from the HP Elitebook 7xx series. The ultra-slim chassis has been crafted in a modern silver finish which has passed MIL-STD 810 testing. It also provides enterprise-grade security and manageability. Additionally, the series supports HP docking options for gradual transitions as well as modern docking solutions. Like we mentioned, the HP enterprise-security package is available here and it contains an Absolute persistence module, HP BIOSphere Gen4, HP DriveLock and Automatic DriveLock, HP Fingerprint Reader, HP Password Manager, HP Secure Erase, HP Sure-Click, HP Client Security Gen4 and more.
The I/Os here are various, as we have one USB 3.1 Type-C for charging, 3x USB 3.1 Gen 1 (one of which is for charging again), comes with an HDMI 1.4, 1 RJ-45 and a VGA port. Of course, they have not forgotten the headphone/microphone combo jack. You also have a docking connector included and the AC power jack. While we are in this section we must mention that sweet expansion slot for a microSD card is available. Also, the audio the laptop delivers comes from a dual-speaker system which is also combined with a dual array microphone. Did we mention its HD audio? Speaking of those features, the camera on the laptop has a 720p HD res. The fun on the laptop lasts up to 13 hours and 30 minutes as it has an HP Long Life 3-cell, 48Wh Li-ion battery.
The starting price of HP ProBook 645 G4 will be 749€ for Europe and about $749 for the US market.
You can check for HP ProBook 645 G4 availability here: Buy from Amazon.com (#CommissionsEarned)