Here's why you should get excited about Amazon's new $49.99 Fire 7″ tablet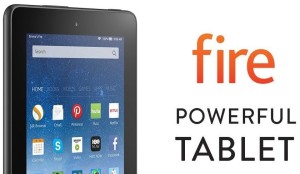 The Fire tablet lineup from Amazon is renowned for its availability and great features that are added to the list and in a week the company is expanding its family of devices with another budget-friendly 7-inch tablet.
It has a 7-inch display, as you may have already picked up from the name, with 1024 x 600 resolution, 1.3 GHz quad-core CPU, two cameras, and 1GB RAM. The internal storage is only 8GB, but you can expand it by another 128GB via microSD card. It's not yet clear how much is the capacity of the battery, but Amazon promises at least 7 hours of mixed usage. Not bad for a budget tablet to be honest.
However, the best part of the device is the so-called Amazon Underground app that gives you access to a $10 000 worth of free apps, games and in-app items. The usual features like streaming multimedia and Prime access are also available. This will cost you just $49.99 and it's up for pre-order now: http://amzn.to/1KEvYXf