Google reveals the HP Chromebook x360 11 G1 Education Edition – designed for the classroom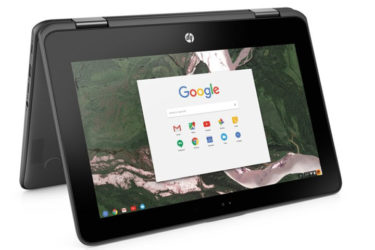 Google wrote a blog post about the role of technology in the education system. The emphasis of the post is on the usage of Chromebooks to enhance studying. An example is given with the Swedish educational system where lots of schools are using Chromebooks in their classrooms. A new 2-in-1 device was teased in the blog post – the HP Chromebook x360 11 G1 Education Edition.
Just by looking at the name of the device we can understand that it is designed to aid studying and that it can rotate at 360 degrees.
HP's rugged 360 degree convertible Chromebook will feature USB-CTM charging and optional stylus and world-facing camera capabilities designed for the specific needs of schools.
This is how Google describes the new model. We instantly notice the word "rugged" which means we can expect it to be built sturdy which is a nice thing because children are known to easily break things. There will also be a stylus available for writing and drawing which will not need any charging or pairing.
With devices like these Goole is trying to make the classroom experience more advanced. The blog post claims that apps and features that are designed to aid education are creativity are on discounts from some European resellers.
There is no information about pricing but Chromebooks aren't expensive at all so we could expect a device made for education to be even cheaper so that more schools opt for using technology in their classrooms. And as of availability, the x360 11 G1 should hit the market in mid-April.
Meanwhile, you can check all available Chromebooks over here: http://amzn.to/2mQhLm0