Good news Alienware 13 R2 users, the Full HD IPS panel on the laptop is flicker-free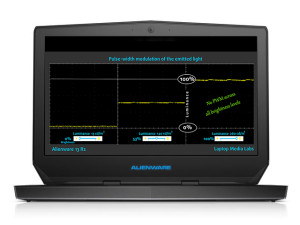 Despite the disappointing image quality of the Samsung panel found on the Alienware 13 R2, we have some good news in stored for you. Our oscilloscope didn't register any PWM across all brightness levels, meaning you can stare at the screen all you want and you probably won't feel eye fatigue at all. This is really important especially if you are considering long hours of play time in front of the computer.
You can find the notebook and its available configurations here: http://amzn.to/1Vw7Ui5
Anyway, if you still don't know what PWM actually is, we suggest you read our piece on the matter and we also strongly suggest checking out our pulse-width modulation ranking list, which ranks all notebooks that we've tested so far. The first ones are least harmful to your eyes and as the list goes down, the PWM becomes more aggressive and more damaging to one's eyes.