Given the hardware of HP's powerful Pavilion 17, the battery life is more than satisfactory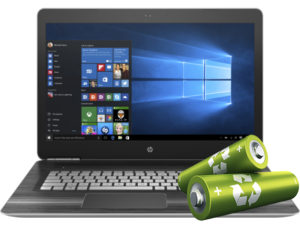 Usually, when we hear about a configuration with a quad-core high-performance processor with a TDP of 45W and an energy consuming GPU, such as the Core i5-6300HQ and the GeForce GTX 960M GPU found in HP's Pavilion 17, we don't expect any ground-breaking battery test results. Especially when you add the 17-inch IPS touchscreen with 1080p resolution.
You can find more information about prices and configurations here: http://amzn.to/29vmEN8
However, the Pavilion 17 seems to hold up pretty well in our battery tests and scores satisfying results. It even surpasses gaming laptops with similar hardware and much higher asking price. We are referring to the ASUS ROG GL752VW or even the Acer Aspire V17 Nitro Black Edition. During our Wi-Fi browsing evaluation, the hefty laptop scored 343 minutes (5 hours and 43 minutes) and withstood around 342 minutes (5 hours and 42 minutes) of non-stop video playback. Yes, sure, it might not seem as much but it's a tad better than what the industry is currently offering in terms of battery performance. Probably the big 62Wh unit inside the machine is the main reason for this.
Keep in mind, though, that all tests were performed in controlled conditions with Wi-Fi always turned on, battery saving feature turned on and screen brightness set to 120 cd/m2.