Four new laptops make it to our M.2 SSD compatibility list including the HP Spectre 13 and Acer Aspire S 13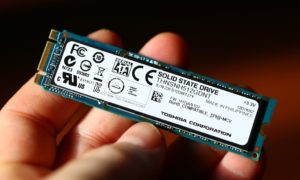 In relation to our M.2 SSD compatibility list, we've updated the table with four new notebooks with three of them being part of HP's new portfolio. All of them, fortunately, support M.2 slots, which is a significant upgrade compared to its predecessors.
Let's first get the only Acer laptop in today's list out of the way – the Aspire S 13. It features one 2280 M.2 SATA SSD slot and some of you might be disappointed by the SATA only support and the motherboard not using the PCIe NVMe controller but with a starting price of just $749, it's kind of understandable. We can't expect top-shelf hardware for just a little over $700, right? Anyway, the same goes for HP's newest 17 notebook but if you are really into high read/write speeds, we suggest opting for the 15-inch Pavilion because according to HP, the motherboard supports the delicious PCIe NVMe standard. They both have 2280 M.2 drive slots and no NVMe support but the generally powerful hardware make up for it. Both notebooks actually offer excellent price/performance ratio.
And finally, the HP Spectre 13 – currently the thinnest notebook on the planet. HP claims that the notebook comes with PCIe NVMe M.2 SSD, which is right, but we cannot confirm the standard of the drive because the notebook is sealed tight with adhesive instead of the usual screws. We weren't able to disassemble it but our best guess is that the laptop uses the most common 2280 standard. Those are just assumptions, though.