Force MP500 – Corsair announces its fastest SSD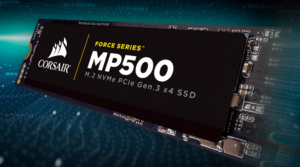 Corsair, a company that is not at all new to the sphere of SSD production, announced the release of a truly intriguing device – the fastest SSD in their portfolio up to now. We are talking about the Force MP500 model – SSD of the M.2 type that ensures up to five times the speed of conventional SATA 6Gbps SSDs. This is possible thanks to its use of a PCIe Gen 3 M.2 2280 interface (boasting high bandwidth) and an NVMe controller.
So what is the speed limit on this one? Well, it can reach up to 3000 MB/s of read speeds and up to 2400 MB/s of write speeds. Perhaps the next thing you want to know is the capacity options you could choose from? There are three options – 120GB, 240GB and 480GB. Of course, the manufacturer has made sure to include several options for protection so that your valuable data will not be corrupted (SmartFlush, SmartEcc and SmartRefresh technologies).
You may wish to browse through all currently available Corsair product here: http://amzn.to/2hNCHGQ
Certainly, a short specs sheet will also be worth your while:
NVMe PCI Express Gen. 3 x4 interface provides up to a 5x performance improvement over SATA SSDs.
M.2 2280 industry standard compact form factor.
Available in various storage capacities including 120GB, 240GB and 480GB.
Compatible with Microsoft Windows, Mac OS X, and Linux, with no special driver or administrative rights required.
Enhanced error correction improves data retention.
Toughened contact surface material gives better contact to the motherboard and provides vibration resistance.
Static and dynamic wear-leveling extends the life of the SSD.
Advanced garbage collection support provides extended drive management tasks.
Compatible with CORSAIR SSD Toolbox for advanced functionality.
Extensive 3-year warranty.