For a 17-inch gaming laptop, the Lenovo Y700 (17″) holds up pretty well in our battery tests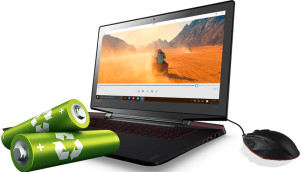 Gaming laptops are not the first to come to mind when battery life is involved, especially 17-inch notebooks, but it seems that in the last one or two years, things are slowly changing. However, the Lenovo Y700 (17-inch) surprised us with even better battery runtimes than expected. It seems that the notebook inherits the overall good battery performance from its 15-inch sibling with just about the same readings but most importantly, the 17-inch Y700 holds an edge over its competitors in this class.
You can find the notebook's price and configurations here: http://amzn.to/1T3lJSH
Our Wi-Fi browsing tests indicate around 390 minutes while watching a movie will get you through 356 minutes. That's mighty impressive and probably the main reason is the fairly big battery capacity – 60Wh. For the record, the direct competitors Acer Aspire V17 Nitro Black Edition and ASUS ROG GL752VW hold 52.5Wh and 48Wh units translating into roughly 24% and whopping 47% shorter battery runtimes, respectively. So if you are looking for a 17-inch gaming laptop capable of productivity on-the-go, the Y700 might be the wiser choice.
Of course, all tests were performed with the same settings – Wi-Fi turned on, battery saver mode switched on and screen brightness set to 120 cd/m2.