EVGA outed its first gaming laptop with beefy specs and overclocking features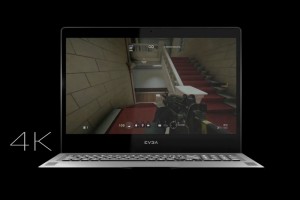 EVGA just announced its new high-end gaming laptop, which boasts impeccable design and build quality with aluminum-clad chassis and stylish keyboard with white LED illumination. Of course, for the beefy specs, the price is accordingly – $2 700 and it's up for pre-order.
This will get you unlocked Intel Core i7-6820HK CPU, NVIDIA GeForce GTX 980M (8GB GDDR5), 32GB of DDR4 memory overclocked at 2666 MHz (with two 16GB modules), 256GB M.2 SSD (presumably NVMe standard) plus 1TB of 7200 rpm HDD. The best part is the display, which is Ultra HD (3840×2160), although G-Sync is missing and gaming at this resolution with high settings might cause some stuttering issues. However, EVGA is in works for a G-Sync-enabled variant, which will be released later this year.
Connectivity options are HDMI and DisplayPort along with two USB 3.0 ports and one USB-C 3.1 port, so you can still take advantage of the G-Sync feature as long as you have an external monitor with the chip. As for the chassis, it weighs around 3.69 kg and it's quite thin – 26.67 mm.
So the EVGA SC17 offers top-notch specs that are in line with the rest of the competition but what makes this laptop stand out are the features such as SuperClock mode button – something like the turbo switch on the Lenovo IdeaPad Y900 – controls over CPU multipliers, voltage, memory timing, frequency and even GPU overclocking.
You can check out the laptop at EVGA's official website.