End of the year gaming deal – Dell Inspiron 7559 with Core i7-6700HQ and GeForce GTX 960M for $799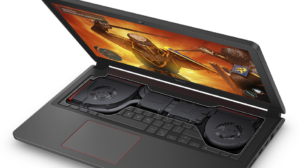 It looks like Dell is planning to end the year with a very good deal for every gamer who is looking for a decent gaming machine without breaking the bank. The Inspiron 7559 is one of the most lucrative offerings but now it has additional 5% discount making it arguably the best choice at this price point.
The configuration we've chosen has a powerful Intel Core i7-6700HQ processor, 8GB of RAM and a GeForce GTX 960M GPU with 4GB of GDDR5 memory. The screen is 15.6-inch Full HD so you'll be able to play a good number of today's games at medium or high settings at native resolution.
There are no sacrifices in terms of storage option as well – this configuration has 1TB HDD with 8GB SSD cache but ab additional M.2 SATA SSD stick for fast loading times and better responsiveness is also an option.
You can read our in-depth review of Dell Inspiron 7559 here:
http://laptopmedia.com/review/dell-inspiron-7559-review-the-gaming-arena-became-even-more-spectacular/
If you decide the 7559 is your late Christmas present, you can buy it here: http://amzn.to/2i7uxwM