EaseUS Data Recovery software – restore deleted, formatted or lost files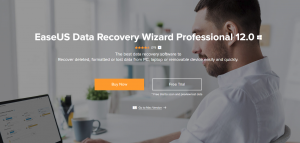 We live in a day and age when almost all of our information is stored on storage devices such as hard drives, SSDs, memory cards, etc. Fewer and fewer are the companies that keep documents in physical folders – be it invoices, CVs, or something else. It's the same with people from other spheres and even mere casual users. Most of us store our photographs on our computers without printing them.
Unfortunately, contemporary technology has its limits and hard drives may fail at a certain point or it might be simply the case that we are careless and accidentally delete something important.
Now, there are ways of recovering information and preventing your sensitive data from turning into electronic dust. One such way is the EaseUS data recovery software which has a paid and free trial version. The free version of the software can recover up to 2 GB data after a Social Network share. Besides, Russian interface is available, and you can choose it during installation.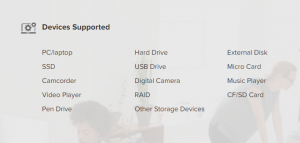 It is good to mention that this app can be used with the Windows operating system. Additionally, there is a wide variety of devices that you could recover information from. What we have in mind is – HDDs, SSDs, RAID configurations, external drives, CF/SD memory cards, as well as other storage devices.
Like we said, there is a great multitude of file types that can be recovered – documents (doc/docs, xls/xlsx, ppt/pptx, pdf, html/htm, etc.), images (jpeg, tiff, bmp, crw, cr2, nef, dng, etc.), video (avi, mov, mp4, 3gp, mkv, mpeg, etc.), archives (zip, rar, iso, etc.), and more.
Another important thing we should mention is that the recovery process is quite simple. You just launch the application, scan for data to be recovered (plus you can filter the file types you are looking for before scanning) and actually recover what you need:
Also noteworthy is the fact that there are three packages to choose from, depending on your needs – Pro, Pro + WinPE, and Technician. The first two are currently discounted, so make up your mind quickly before the prices go up again. In our opinion, this is one of the easiest data recovery apps we've used.
In case you want to learn more, we suggest checking the video below or visiting the official website.