Despite the not so great image quality on the Lenovo Yoga 900S, the screen is considered to be harmless to your eyes (PWM report)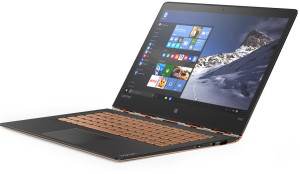 This one is a bit tricky. The Lenovo Yoga 900s has a lackluster screen, as our results from the tests show, but our oscilloscope registered minor pulsations not worthy to be called PWM (pulse-width modulation). By the way, if you still don't know what PWM is, we suggest you read our article explaining every thing here.
As we said, the situation here is a bit tricky. While there are now aggressive pulsations, our oscilloscope was still able to record some "light" pulsations with extremely high frequency – 67 kHz. This is so high that it's virtually impossible for the human eye to detect the pulsation. Furthermore, the brightness doesn't hit zero meaning you don't have to deal with the frustrating full-range pulsations. Basically, the screen is good for long hours of work and we doubt that even users with sensitive eyes would notice anything.