Dell's Latitude 3570's big bulge delivers exceptional battery life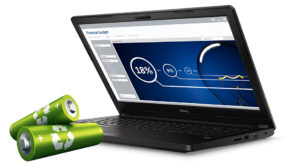 That's probably the first thing we wanted to know about the Latitude 3570 – how much battery life can you get from the 65Wh version with that big protruding bulge on the bottom of the chassis. Well, it turns out that the laptop can challenge even the most energy-efficient ultrabooks with considerably smaller 13-inch and 14-inch screens.
You can find more information about pricing and availability here: http://amzn.to/2fnW5ZD
The unit we've tested is equipped with an Intel Core i3-6100U CPU and a Full HD TN panel so we can assume that the model with the HD (768p) panel will squeeze out even better runtimes out of the battery. Anyway, the results we got are nothing but overwhelming. On the web browsing test, the Latitude 3570 scored 621 minutes (10 hours and 21 minutes) while on the video playback test, the runtime is shorter but still beyond what most similarly priced notebooks have to offer – 486 minutes (8 hours and 6 minutes).
All tests were performed using the same conditions as always – Wi-Fi turned on, Windows battery saving feature switched on and screen brightness set to 120 cd/m2. Stay tuned for the full review of the model in the following days or weeks.