Dell Vostro 5480's dual fans cooling offer impressive heat management results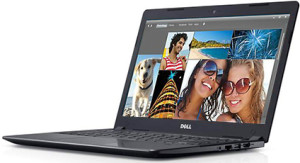 When we disassembled Dell Vostro 5480 we were pleasantly surprised by the dual-fan cooling inside and now that we tested it, we are very impressed with the results. The notebook is pretty thin, measuring 18.3mm height and offers pretty good specs. The machine we have in our office for review comes with Intel Core i3-4005U (clocked at 1.7 GHz) and a discrete NVIDIA GeForce 830M GPU, which have to be cooled by the dual-fan system.
The temperatures and heat management test we do consists of 3 segments – first off is the computational stress test, where we put the CPU at 100% load for an hour, after that we add 100% GPU stress alongside the CPU and leave both running for another hour. Finally we measure the temperature on the surface of the notebook (the keyboard and palm rest) to see if the cooling system is working as it should. We have to note that the following tests do not represent real-life situations, as it is really difficult to reach 100% CPU and GPU load under normal usage for such an extended period of time as our stress test. We run them to see how the machine handles higher temperatures and check the overall stability.
Under normal usage the CPU maintained a temperature of around 42-45°C. During the 100% stress test the temperatures rose to about 51-55°C with nearly no noticeable sound from the fans. You can see the results in the graphic below, the blue line is CPU load, and the orange – the measured temperatures.

During the second part of the test the CPU temperature rose with about 4°C to 56-59°C throughout the second hour of the test. The GPU temperature we measured under normal load was 41°C and rose to 57-59°C during the test. Both results are pretty great and are quite far away from the operational maximum of the components – 100°C.

The results on the surface of the notebook are just as good – the keyboard and palm rest felt cold to the touch, with just slightly warmer top-center part, or just above where the CPU and GPU sit on the inside. You can see the results on the heat map below.