Dell Vostro 5480 offers nearly a whole working day of battery life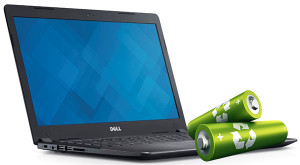 The new Dell Vostro 5480 we are currently testing is turning out to be a pretty great machine. We have already mentioned how thin, light and elegant it is in our first impressions article. We were also pretty impressed with how well it manages the heat under big load and now it's time to give a sneak peek into another aspect of the notebook that really surprised us – the battery life.
The machine we have for a review comes with an Intel Core i3-4005U ultra-low voltage CPU, NVIDIA GeForce 830M GPU, a 14" TN HD screen and a 51.2Wh battery. The results we got from it are pretty impressive. We got 452 minutes (7 hours, 32 minutes) of web browsing, which is just a half hour short of a full working day. Gaming usually takes a big toll on the battery as the discrete GPU eats up quite a lot of power, the result we got is 107 minutes (1 hour 47 minutes). We are still waiting for the juice to run out in our video playback test so you will have to wait for the full review to come out to check what result we got there.