Dell S2718D is a ridiculously thin 27-inch HDR monitor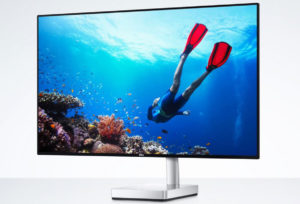 Okay, now this will be interesting for those of you who happen to be photography aficionados. The American company Dell, renowned for its tradition in the production of monitors, revealed a new product – the Dell S2718D. This is a 27-inch monitor with incredibly thin bezels and basic HDR capabilities.
If you wish, you could also check other Dell monitors here: http://amzn.to/2iveOHL
This particular model is good for those of us who like to dabble in photography or video editing because it offers 99% of sRGB coverage. Additionally, the resolution it offers is 2560 × 1440 pixels. You may also wish to know that the connectivity options here are not a few – HDMI 2.0, audio line out, USB C (can deliver up to 45 W so that it can charge even laptops). As for the price, S2718D will sell at $699.99.