Dell Latitude E5570 blows past its predecessor with 25% better battery life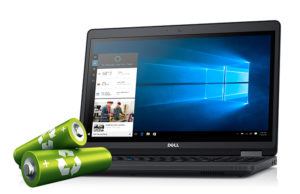 The results from our battery tests on the Dell Latitude E5570 are in and they seem more than promising. The new Latitude not only blows past its competitors but also delivers much better battery performance than before. The model we've tested uses a 62Wh battery unit which is around 18% more than the previously reviewed E5550 with 51Wh battery.
You can find the notebook and its available configurations here: http://amzn.to/2aMcO6k
The 18% increase in battery capacity has resulted in around 25% better battery runtimes with absurdly high scores on the web browsing and video playback tests. So the Latitude E5570 scored 553 minutes (9 hours and 13 minutes) on our web browsing test and 500 minutes (8 hours and 20 minutes) on the video playback one. For the record, last year's E5550 scored 413 minutes (6 hours and 53 minutes) and 375 minutes (6 hours and 15 minutes), respectively. We assume the improved power consumption of the new Skylake generation CPUs also had an effect on the tests.
Anyway, we feel obligated to tell you that all tests were run under the same conditions as before – Wi-Fi turned on, Windows battery saving feature turned on and screen brightness set to 120 cd/m2.