Dell Inspiron 7359 uses PWM from 0 to 99% screen brightness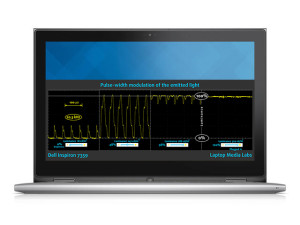 One of our upcoming reviews is about Dell's take on budget-friendly convertibles. The Inspiron 7359 boasts some great specs for the asking price and the build quality is astonishing. However, there's a big downside and that's the presence of pulsating light across all brightness levels.
IF you are interested in the notebook, you can find all the available configurations at Amazon.com.
Our oscilloscope registered the so-called pulse-width modulation from 0 to 99% brightness. IF you still don't know what PWM is and how it affects your eyesight, we suggest reading our piece. Anyway, the emitted light pulsates at relatively high frequency – 20.3 kHz and thus reducing the negative impact on your eyes. Higher the frequency – the better.