Dell Inspiron 5758 is equipped with one of the best TN panels we've tested so far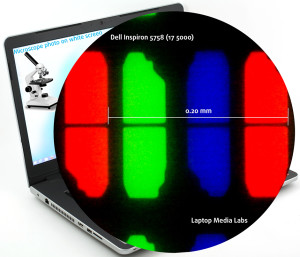 It is common to see a budget notebook with TN panel instead of pricey IPS display, but we rarely come across a laptop with a quality TN panel. The Inspiron 5758 is one of those laptops and this is a huge deal breaker for any of you looking for a decent multimedia station. Here's why, though.
The Inspiron 5758 features a Full HD (1920×1080) TN panel with 17.3-inch diagonal. Yes, viewing angles aren't good, due to the nature of the TN panels, but the maximum brightness we were able to record was 322 cd/m2 – some high-end notebooks with IPS panels can't reach such high luminance. This is suitable even for outdoors and, in addition, the native color temperature is 6900K – really close to the optimal one of 6500K (D65). Furthermore, the TN panel can reproduce 95% of the sRGB colors and 74% of the Adobe RGB. Both results are unusually high for a TN display, but we are happy with them, nonetheless.
On the contrary, there's one thing that bothers us a lot. The panel uses PWM (pulse-width modulation) and screen flickering effect occurs from 0 to 99% brightness. This can cause headaches or eye fatigue to those who have sensitive eyes. The frequency of the emitted light is around 200 Hz – really low and aggressive pulsation and, unfortunately, this can be overcome by turning up the brightness at 100%.

The full review is on its way, so stay tuned.