Dell Inspiron 3552 uses a screen with PWM – just like most budget notebooks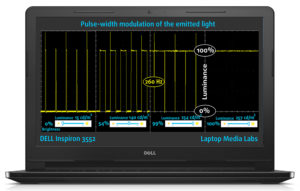 We are almost done with Dell's budget Inspiron 3552 review and some results just came in from our lab. Of course, results aren't surprising as most low-end notebooks use screens with PWM but we just thought we would give a small teaser before the full review.
You can find more information about the price and availability of the notebook: http://amzn.to/23ivKOK
The oscilloscope recorded screen flickering from 0 to 99% screen brightness meaning you can use the screen at 100% brightness without worrying about the PWM. However, if you go below 100%, the frequency of the emitted light is extremely low – 260 Hz. This is considered to be aggressive and can cause eye fatigue to some users.
Stay tuned for our review because the PWM can be a deal breaker for some but there's more than it meets the eye.