Dell Inspiron 11 3179 is PWM-free so it's safe to use for long hours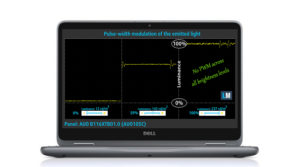 With each passing day more and more users decide to opt for a laptop which doesn't use PWM for regulating screen brightness. We are pleased to confirm that this is exactly the case with Dell Inspiron 11 3179 – its 11.6-inch HD TN panel is practically flicker-free.
You can check prices and configurations: Buy from Amazon.com (#CommissionsEarned)
According to our equipment, Dell Inspiron 11 3179 doesn't use PWM across all brightness levels which means it can be used for long periods of time without causing any negative effects such as eye strain or fatigue. This will certainly come as good news especially to those of you who spend most of their day in front of a computer.
You can also browse our PWM ranking list for other laptop alternatives with the same PWM rating. Also, make sure to check out our Health-Guard profile that helps reduce the negative blue light emissions by lowering the color temperature and preserving color accuracy as much as possible.
Follow this link to read our in-depth review of Dell Inspiron 11 3179.