Dell announced its new XPS, Inspiron and Precision lineups with revamped design and Skylake processors
The next down the pipeline for Skylake CPUs apparently is Dell. The company just announced its new notebooks and most of them didn't only receive the Skylake treatment, but also boast new and improved design. Let's start off with the XPS series as they are more exciting.
XPS 13 9350, XPS 15 9550 and XPS 12 9250
The XPS 13 actually doesn't offer anything different from its predecessor in terms of design. Dell kept the thick aluminum chassis with rubberized carbon fiber finish around the keyboard and super-slim bezels around the screen. However, the new XPS 13 sports three CPU variants – Core i3-6100U, Core i5-6200U and Core i7-6500U, bundled with up to 16GB (non-upgradeable) RAM, up to 1TB (M.2 PCIe SSD) and again two screen configurations. The cheaper version will feature Full HD IPS panel while the premium variant will boast 3200 x 1800 resolution packed inside an IGZO IPS panel. This definitely seems interesting. Again touch and non-touch versions will be shipping with the non-touch version weighing at 1.2 kg while the touch configuration weighs slightly more – 1.29 kg. Last, but not least, the notebook will have slightly bigger 56Wh battery, Thunderbolt 3 port and USB 3.1 gen2 connector (USB Type-C).

A much bigger variant of the XPS 13 is the XPS 15, with the same design signature, but significantly more powerful hardware. We are talking about Intel Core Skylake H series (Core i5-6300HQ and Core i7-6700HQ) with up to NVIDIA GTX 960M GPU, 16GB of RAM and again M.2 PCIe SSD on board. Screen options are again starting from Full HD (1920×1080) and the more premium model sports 3840 x 2160 (UHD) IGZO IPS panel with touchscreen capabilities. The weight of the device, interestingly, is slightly bigger than the 13-inch version – 1.72 kg – rather impressive. We are again presented with Thunderbolt 3, USB 3.1 gen2 ports and the battery keeping the lights on will be 84Wh. We wonder how the battery will perform with the 4K version.

The XPS 12, though, is a whole another story. It can be considered as a direct competitor to the Surface Pro and Toshiba Portege Z20t, but the 4K resolution on the 12.5-inch screen puts it in a slightly different category. The price will be set accordingly as well. Other than the 4K IGZO IPS panel, the machine offers detachable keyboard docking with two versions – a simpler one with just keyboard and a bigger and more thicker dock with full-sized USB ports, HDMI port, but there's no word about the additional battery. The more affordable variants will sport Full HD panel with Core m3 and Core m5 processors while the premium version will go up to Core m7. The new Core M lineup will offer more stability, less heat, better performance and better features according to Intel. 8GB of RAM and M.2 SATA SSD are also in the specs sheet, but we are a bit skeptical about the 30Wh battery being able to keep the show running for longer periods.
Dell Inspiron series
The better part of the Inspiron notebooks is just renewed Skylake hardware while the looks are mostly the same. The convertible models like Inspiron 3153 and Inspiron 13 7359 will now feature Core i3-6100U CPUs as a basic version, and up to Full HD IPS panels for better viewing experience. Also, some storage options have changed with SSDs, but there are too many notebooks for this article to cover. This is all for now and reviews from the Broadwell and Haswell generation will still serve well (except for the performance, of course).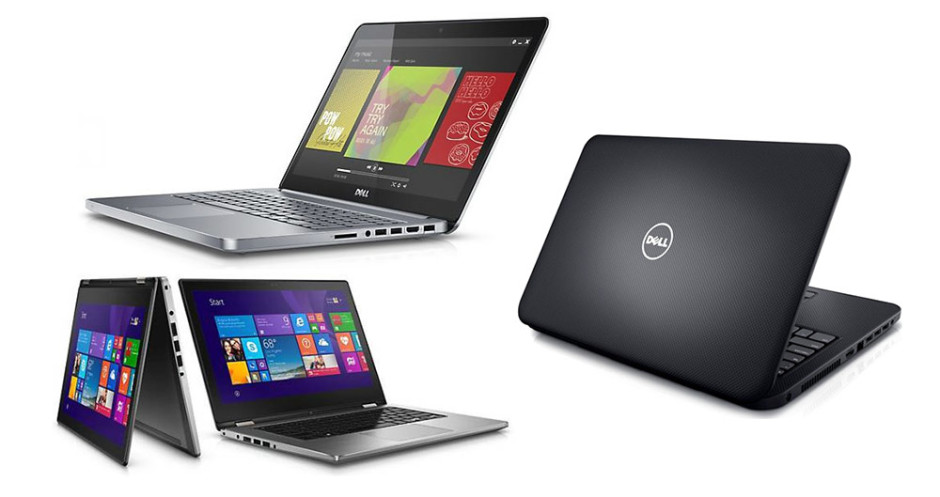 Dell Precision series
Unlike the Inspiron lineup, the Precision series received more attention and now boast not just better overall hardware, but also better design, new materials for the chassis including magnesium and aluminum and some features are now left out in the name of lower weight. Again we are seeing the improvement to Skylake CPUs (mostly Skylake HQ CPUs, and Xeon processors are also available). RAM slots will support up to 32GB DDR4 bundled with the new AMD FirePro graphics and NVIDIA Quadro. The Precision 15 5510, for example, boasts lightweight (1.8 kg), 0.7″ thick height, aluminum shell and carbon-like interior. Users who do their designing and video editing will be pleased to know that the notebook comes with M.2 PCIe slot alongside the 2.5-inch one, FHD and UHD display options supporting 100% Adobe RGB color gamut coverage. Battery life has been improved as well, but no number have been mentioned. You can look for the more affordable Precision 15 3510 or the more premium Precision 15 7510 variants of the Precision 15 5510.
There's also a new massive 17-inch Precision 17 7710 workstation that ships in tons of variants – Intel Core and maybe Xeon processors paired with up to 64GB of DDR4 2133MHz RAM, AMD FirePro W7170M GPU or NVIDIA Quadro M3000M, M4000M or M5000M.