Check these new ADATA USB drives – UC360 and UC370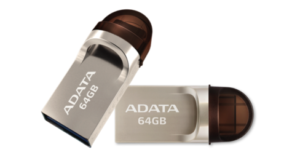 Good morning, good afternoon or good evening, tech geeks! We've got some interesting news for you. The Taiwanese manufacturer ADATA has come up with some intriguing new flash drives – UC360 and UC370. Right off the bat, the most characteristic feature of these little gadgets is that they boast more than one connector, allowing you to connect them to various devices without having to use adapters.
If you happen to show interest, you may wish to check all currently available ADATA flash drives here: http://amzn.to/2skX6fk
And so, the UC360 combines USB-A and Micro USB connectors in its super small construction, which weighs only 3.8 g. On the other hand, the UC370 combines a USB-A and the more and more popular USB-C, which supports up to 10Gbps data transfer speeds. What's more, it is even a tad lighter than the UC360 – only 3.7 g.
In addition to them being light and compact, the two new models make use of durable metal material and are protected from drops, liquids, and dust. And as far as their internals go, the flash drives are built using the COB methodology (chip-on-board).