Big surprise – ASUS N752VX's battery life is the same as last year's N751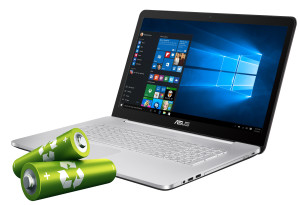 We were initially underwhelmed by the downgraded battery since the new N752VX has a slightly smaller unit than its predecessor (from 56Wh down to 48Wh). We are quite puzzled by that, but interestingly enough, the newer version didn't score worse than before. In fact, the video playback times are improved.
You can check ASUS N752's availability here: http://amzn.to/1T6itYn
Last year's model got 301 minutes in the browsing test as this year's model scored 300 minutes. Also, the video playback runtime is 240 minutes compared to the previous result of 225 minutes. That's an insignificant improvement but proves something here, nonetheless. It seems that the new Skylake chips have gone a long way because, with a slightly lower battery capacity, the battery life is still the same and we are pretty sure that the new IPS panel drains more power than the old TN panel. The new Windows 10 might also be the reason for the good results, but we are betting mostly on the Core i7-6700HQ CPU.
As far as gaming goes, the N751 scored 126 minutes of play time while the newer version scored 103 minutes. However, both models cannot be compared in this test because we tested the N751 with Metro Last Light while the N752 went with F1 2015.