be quiet! reveals the Dark Rock 4 and Dark Rock Pro 4 CPU coolers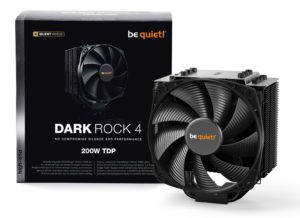 Many people find box coolers (the ones that ship with your CPU) insufficient for their needs or it may be the case that the processor they've purchased doesn't come with one. It is namely these groups of users that this short publication targets. We have some good news for you – the renowned manufacturer of gaming gear known by the name of be quiet! has revealed two new cooler models – the Dark Rock 4 and Dark Rock Pro 4.
You can check all currently available be quiet! products here: Buy from Amazon.com (#CommissionsEarned)
Obviously, these products are meant for powerful processors and it's good to mention that they preserve the almost silent operation and neat features of their predecessors. Of course, there are also improvements but let's get to the specifics. The Dark Rock 4 can now support TDP of up to 200 Watts while maintaining nearly inaudible noise levels. This is a single-tower model, whereas the Pro version is the dual-towered one. The latter can take up to 250 Watts of TDP, thus boasting the same performance as the model it succeeds but it's has a lower noise level of up to 24.3 db (A).
Furthermore, the choice of materials is fascinating – the new series' cooling fins and heat pipes employ an improved ceramic black coating. This results not only in cool appearance but also in better heat conduction. When it comes to copper heatpipes, the Dark Rock 4 has six of them, and the Pro variant – 7. What's more, the two bad boys feature specially contoured fins. The two models sport a Silent Wings 135mm fan, and the Pro version carries another Silent Wings 3 120 mm one.
Price-wise, the Dark Rock 4 sells for $74.90 and the Pro version for $89.00.