ASUSPro B9440 is the lightest (and most beautiful?) 14-inch business notebook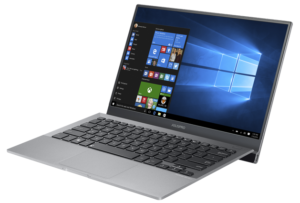 Are you looking for a new business assistant that is easy on your pocket and shoulders without sacrificing the reasonably big 14-inch screen diagonal? Well, this short publication may be quite interesting to you, if your answer is yes. We are talking about the ASUSpro B9440  – it is supposed to be available in May and sell for $999.
If you are impatient and want to check other ASUS laptops, you may wish to go through the available ones here: http://amzn.to/2hR7HdG
This 14-inch laptop which weighs only 1.04 kg! How did they manage? Well, it's thanks to the choice of materials – a magnesium alloy. You may also wish to know that the 14-inch screen comes in Full HD resolution (1920 x 1080p) which means really decent image detail. Additionally, the B9440 comes with a latest generation (7th) Intel Core i5 or i7 processor and up to 512GB of SSD storage space. What else could one need in such a pocket-friendly and lightweight device?