ASUS ZenBook UX303UB with record-breaking battery runtimes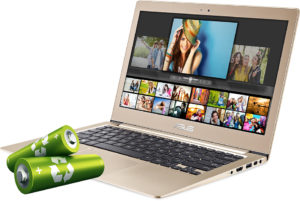 We just finished the battery tests on the ASUS ZenBook UX303UB (with the Full HD panel) and the results are quite honestly, mind-blowing. The ultrabook scored the highest result we've recorded on the web browsing test, even leaving behind some serious competitors like the Dell XPS 13, the Acer Aspire S 13, and its smaller sibling – ZenBook Flip UX360, which is all battery-centric with its extremely efficient and low energy consuming Core m processor.
More info about pricing and availability here: http://amzn.to/2anRdon
As always, we used the same conditions and settings for running the test – Wi-Fi always turned on, Windows power saving feature turned on and screen brightness set to 120 cd/m2. We got the ridiculous 750 minutes (12 hours and 30 minutes) of web browsing and around 550 minutes (9 hours and 10 minutes). We are quite puzzled by the reason of such high results because we've tested other 13-inch notebooks with Full HD IPS panels paired with a Skylake-U processor with even bigger than 50Wh batteries but still the ZenBook UX303 comes on top easily.
Stay tuned for the full review as it's full of surprises like this one.