ASUS ZenBook Flip UX360 with battery life for the whole workday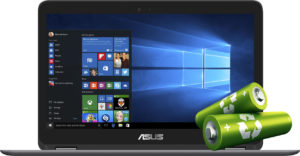 Last year's ZenBook UX305 amazed us with long battery life, which was kind of expected given the energy-efficient processor and small screen size combined with big battery capacity but today's ZenBook Flip surpasses even its own predecessor with unmatched battery performance in its class. Not to mention that the updated version will cost even less.
You can check here for prices and configurations when the notebook is available on the market: http://amzn.to/1XHSwS8
While the ZenBook UX305 sports 45Wh unit, the updated version (UX360) offers a 54Wh battery and a Skylake Core M CPU, which should also bring down the overall energy consumption by a bit. And maybe with a bit of help from both – the bigger battery and new CPU – the UX360 scored the mind-blowing 543 minutes (9 hours and 3 minutes) of web browsing and 454 minutes (7 hours and 34 minutes) of video playback. That's up to 24% increase in battery life compared to the older UX305 model. It's also considerably higher than the Lenovo Yoga 900S as well, which has similar battery capacity and the same processor.
We would like to remind you that all tests were performed using the same settings as always – Wi-Fi turned on, battery saver turned on and screen brightness set to 120 cd/m2.