ASUS X556/K556 with ~17% better browsing runtime than its predecessor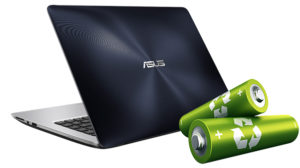 ASUS didn't make any major changes in the battery department in the X556 by replacing the 37Wh unit with a 38Wh one but since the notebook still performs at least marginally better than its predecessor, the whole credit should probably go to the newer Skylake CPU. However, the same doesn't hold true for when video playback is involved.
You can browse the available configurations of the X556 here: http://amzn.to/2axAlfA
Our tests show that the X556 can browse the web for almost 420 minutes (6 hours and 59 minutes) or playback a movie for about 340 minutes (5 hours and 40 minutes). In other words, around 17% better browsing score than the X555 and 10% lower score in video playback than the latter. Since 1Wh is too small of a difference to make any sensible impact, the variation should be coming from CPU. For the record, the X555 sports a Broadwell processor while the newer X556 features a Skylake chip. The units we've tested have a core i7-5500U and Core i7-6500U, respectively.
Also, it's important to be noted that the tests were run under controlled conditions – Wi-Fi always turned on, battery saver turned on and screen brightness set to 120 cd/m2.