ASUS X554L offers the usual battery life for its class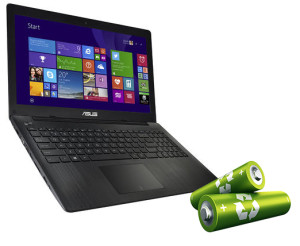 While we are working on the full review of the new X554L, we would like to share our initial battery tests that are somewhat okay for this class. Considering the capable hardware for the price, we can let it pass, but when we disassembled the notebook we found that a bigger battery would have been greatly appreciated. A lot of unused space there.
However, the notebook's 2-cell 37 Wh battery managed to get through 325 minutes of Wi-Fi surfing, 350 minutes of video playback and 94 minutes of gaming. That's a bit more than the average readings we get on this kind of laptops. All tests were performed under the same conditions as always – Wi-Fi turned on, Bluetooth off, power saver on, and screen brightness set to 120 cd/m2.