ASUS X550VX / K550VX uses PWM with aggressively low frequency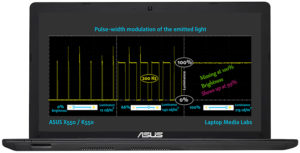 Another day with another PWM report but this time on the ASUS X550VX – one of the most solid budget performers. We've already tested the HD version of this notebook with our lab equipment and news aren't good.
You can find the notebook's price and configurations here: http://amzn.to/2aTrIZ6
The oscilloscope recorded pulsations from 0 to 99% brightness with aggressively low frequency – 200 Hz. This will surely have negative impact on one's eyesight but we have a simple, yet affordable solution to the problem. As with every review we release, we are going to introduce the usual set of display profiles for this notebook as well including the Health-Guard profile. It will help bring the blue light emissions to a lower level when working overnight and will also limit the PWM in order to protect your eyes.
So stay tuned as we have a lot more in stored for you regarding ASUS' latest budget fighter, the X550VX.