ASUS ROG Zephyrus Duo 15 SE GX551 comes with a very efficient cooling setup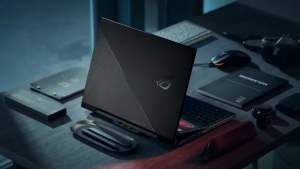 ASUS is known to make some of the best gaming devices out there, with their ROG brand reigning supreme in terms of brand recognition, sales, and everything else. Their latest engineering achievement is the ROG Zephyrus Duo 15 SE GX551, which is not only a treat to use but also performs amazingly, as it features a unique cooling solution that is very effective and keeps the powerful hardware in check. Today we will show you what ASUS's ingenuity can do as we take a look at the ASUS ROG Zephyrus Duo 15 SE GX551's cooling setup.
ASUS ROG Zephyrus Duo 15 SE GX551: Full Specs / In-depth Review
First of all, let's check the cooling setup itself. As you can see from the image below, the laptop uses a total of five heat pipes. Two of them work in tandem to cool both the CPU and GPU. There is one additional heat pipe for each of them, and the final one cools the GPU memory and the VRMs. All of the heat pipes connect to a total of four heat spreaders, two of which are just enormous. After that, we have two fans that drive hot air out of the system and bring new fresh air into it. ASUS has also decided to apply liquid metal to the CPU die to further lower the temperatures.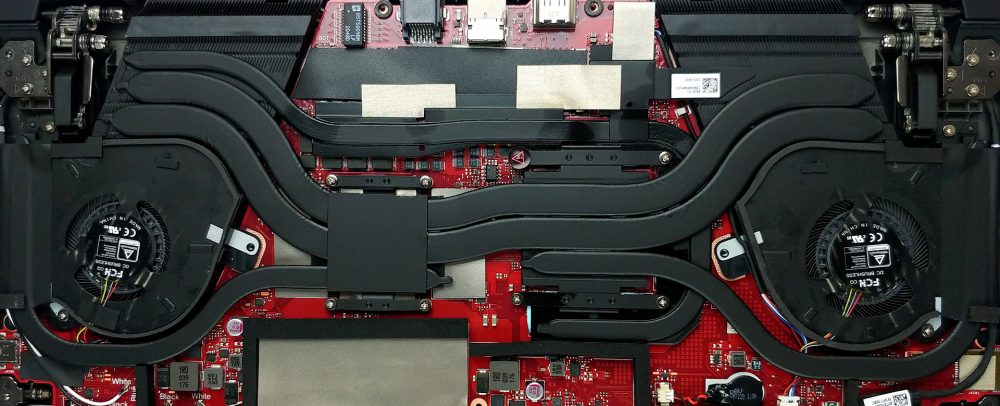 A unique characteristic of the laptop's design is its two displays, of which the second one is situated above the keyboard. As you lift the lid and open the device, the screen pops up to both give you a better viewing angle, but also to allow air to enter from the opening that is created. This increases the airflow dramatically, driving temps really low, and allowing the processor and graphics card to reach higher clock speeds.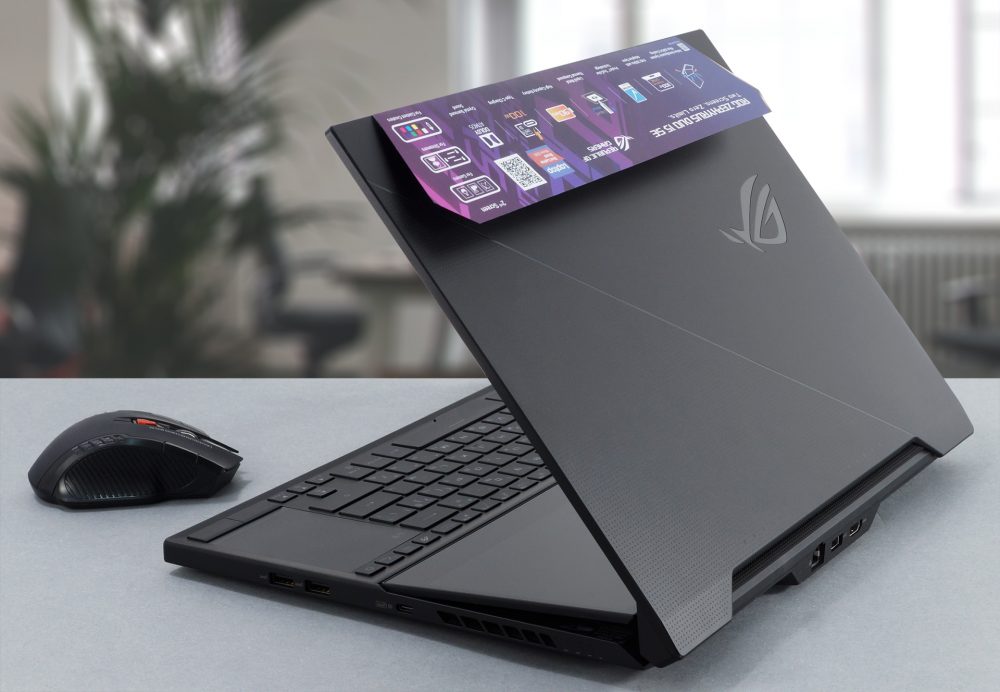 Next, to show you just how effective this cooling solution is, we will show you the results of our stress tests, which put both the CPU and GPU through a prolonged heavy workload. In the case of the processor, the test uses all of the CPU cores, while recording both clock speeds and temperatures.
| AMD Ryzen 7 5800H (45W TDP) | 0:02 – 0:10 sec | 0:15 – 0:30 sec | 10:00 – 15:00 min |
| --- | --- | --- | --- |
| ASUS ROG Zephyrus Duo 15 SE (GX551) | 3.93 GHz (B+23%) @ 81°C | 3.82 GHz (B+19%) @ 86°C | 3.78 GHz (B+18%) @ 93°C |
| ASUS TUF A17 (FA706) 2021 | 3.42 GHz (B+7%) @ 74°C | 3.34 GHz (B+4%) @ 78°C | 3.35 GHz (B+5%) @ 84°C |
Looking at the CPU results, you can see that in the final minutes of the test while the temperature is above 90°C, the CPU has maintained a quite high clock speed, with a 400MHz lead on the next laptop with the same CPU, the ASUS TUF A17.
| NVIDIA GeForce RTX 3070 | GPU frequency/ Core temp (after 2 min) | GPU frequency/ Core temp (after 30 min) |
| --- | --- | --- |
| ASUS ROG Zephyrus Duo 15 SE (GX551) | 1689 MHz @ 71°C @ 131W | 1676 MHz @ 72°C @ 129W |
| ASUS ROG Strix G17 G713 | 1649 MHz @ 83°C @ 130W | 1646 MHz @ 84°C @ 130W |
| ASUS TUF A17 (FA706) 2021 | 1440 MHz @ 74°C @ 95W | 1465 MHz @ 77°C @ 95W |
| ASUS TUF Dash F15 (FX516) | 1389 MHz @ 69°C @ 84W | 1377 MHz @ 74°C @ 84W |
Moving over to the graphics card, the RTX 3070 that was inside it held a very high frequency, while maintaining a great temperature of just 72°C. You can see that the laptop performs the best out of every ROG or TUF device, even beating the significantly larger ROG Strix G17 G713 in a straight fight.

Gaming comfort
The recorded outside temperature is also usable and doesn't result in "sausage fingers". We recorded a maximum outside temperature of 44.9°C.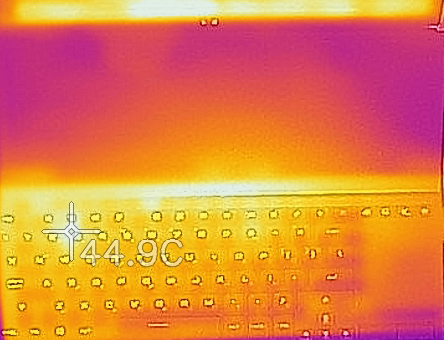 All ASUS ROG Zephyrus Duo 15 SE GX551: